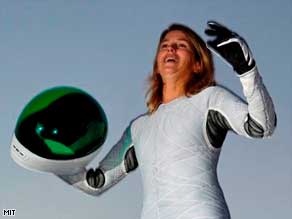 Space age tourism is upon us, and it's only a matter of time until we'll be heading down to our nearest travel agents to pick up space holiday brochures. That's what NASA and the space industry is telling us at the moment. Watching Judith Chalmers sip a space drink while orbiting around the globe might not happen - but what will definitely be happening in the future has already had an impact on other industries.  One such development is the space-inspired fashion  world, which is already making cosmic waves in the deisgn world .
Last year, Louis Vuitton held an exhibition at the Espace Louis Vuitton in Paris titled "The Temptation of Space" which included an installation by legendary French designer Phillipe Starck. That show then followed an international space fashion shows in Japan and the US. There is no doubt that in years to come, more and more of us will be accepting the new trend and wanting to participate in the whole idea. 
Companies such as DestinySpace and Rocketplane are looking at forming a space fashion organisation with other partners, while the Massachusetts Institute of Technology (MIT) is looking at a new slim-fit space suit. NASA also is looking to design a new 'Constellation' suit especially for space travellers. 
A new dawn is beckoning - watch this space.